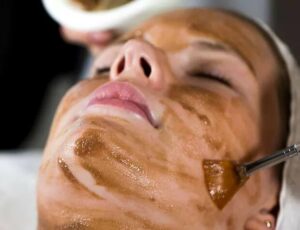 Indulge your senses with the aroma of sweet chocolate as the natural antioxidants and nourishing elements of raw cocoa powder add protection and boost healing for any skin type. The gentle exfoliation of natural papaya and pineapple enzymes will effectively remove keratin build up, brighten and clarify the skin. This enzyme facial is perfect for all skin types including sensitive, acneic or ageing skin and can be performed fortnightly.

$80 – 30 min

Follow with an Oxygen Facial, Firming Peptide Mask or Super Berry Mask.
Benefits
Removes keratin buildup and helps to brighten and clarify
May be used additionally for dry calloused hands, feet, knees or elbows
Acne skin with pustules and macules (calms and softens)
Back treatment
Feature ingredients and their known benefits
Bromeliad – dissolves cysteine protease, anti-inflammatory.
Papain – dissolves sulphydroxyl protein group.
Trypsin – dissolves keratin.
Cocoa – vaso constrictor and anti-inflammatory.