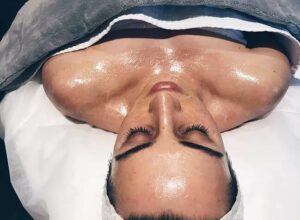 $150 – 45 min single facial
$120 – Paired with another treatment
This facial's firming and tightening mask combines some of the latest technology in peptide, antioxidant and dermal regeneration science resulting in a plasmatic stimulation into the deeper layers of the skin. Containing ingredients such as white tea, green tea and Beta Glucan this treatment is perfect for ageing, dull, sagging and UV damaged skin. 

The FPM facial can be performed every 2-3 weeks.

For best results combine with a Cocoa Enzyme Facial.
Benefits: Firming, Tightening and Anti-Glycation
Feature ingredients and their known benefits
L-Carnosine – a di-peptide that has powerful antioxidant properties and anti-glycation capabilities as well as enhancing cellular renewal in the skin.

L-Carnitine – this is essential at a cellular level for the creation of metabolic energy thereby helping all the dermal renewal processes in the skin especially during the creation of keratinocytes, collagen and elastin and antioxidant process that remove toxins.

Aspartic Acid – an amino acid that is of paramount use in the Citric Cycle and helps to boost your skin's energy. The Citric Cycle is the energy cycle in the cell and keeps you young. AA also creates other useful amino acids.

Glumatic Acid – is a building block fonzyme GSH (Gluetathione Peroxidase) one of the most powerful immuno-enzymes in the body and skin that helps protect and remove toxins and free radicals.

Beta Glucan – immune stimulant, activates natural repair system

Green Tea – a known antioxidant that contains polyphenols and flavonoids, as well as energy stimulating ingredients.