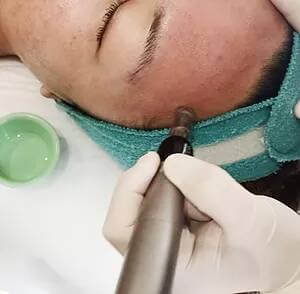 Face and Neck = $200
Chest / Hands / Neck = $100

Skin Needling is the most advanced treatment for your skincare, which delivers the ultimate combination of comfortability and effectiveness. This minimally invasive treatment works to lift, tighten and rejuvenate skin. Skin Needling is ideal for minimising fine lines and wrinkles by stimulating collagen and elastin production as well as treating acne scarring and stretch marks.
Skin Needling has revolutionised skin needling to deliver the ultimate in comfortable, effortless and effective treatment. Skin Needling is the latest technology in medical grade skin needling with the results being likened to laser resurfacing and Fraxel treatments without the worrying side effects and downtime.

Multiple needles that vertically pierce the skin, not only preserves the epidermis but offers a thermal free and non-ablative technology, providing the most ideal balance between optimal results and comfort. This small hand held device delivers up to 1300 micro punctures per second into the skin and when moved across the skin's surface it stimulates the production of collagen and elastin and normalising various skin functions. This minimally invasive and affordable treatment option works to lift, tighten and rejuvenate the skin.

Skin Needling can effectively treat those hard to reach places around the eyes, nose and lips and can easily penetrate scar tissue. Due to the treatment's scar-less healing it is a safer and more effective treatment unlike traditional skin needling rollers. The disposable needles eliminate risk of cross-contamination, whilst the adjustable needle depths allow for a treatment tailored to your individual needs.

FAQ